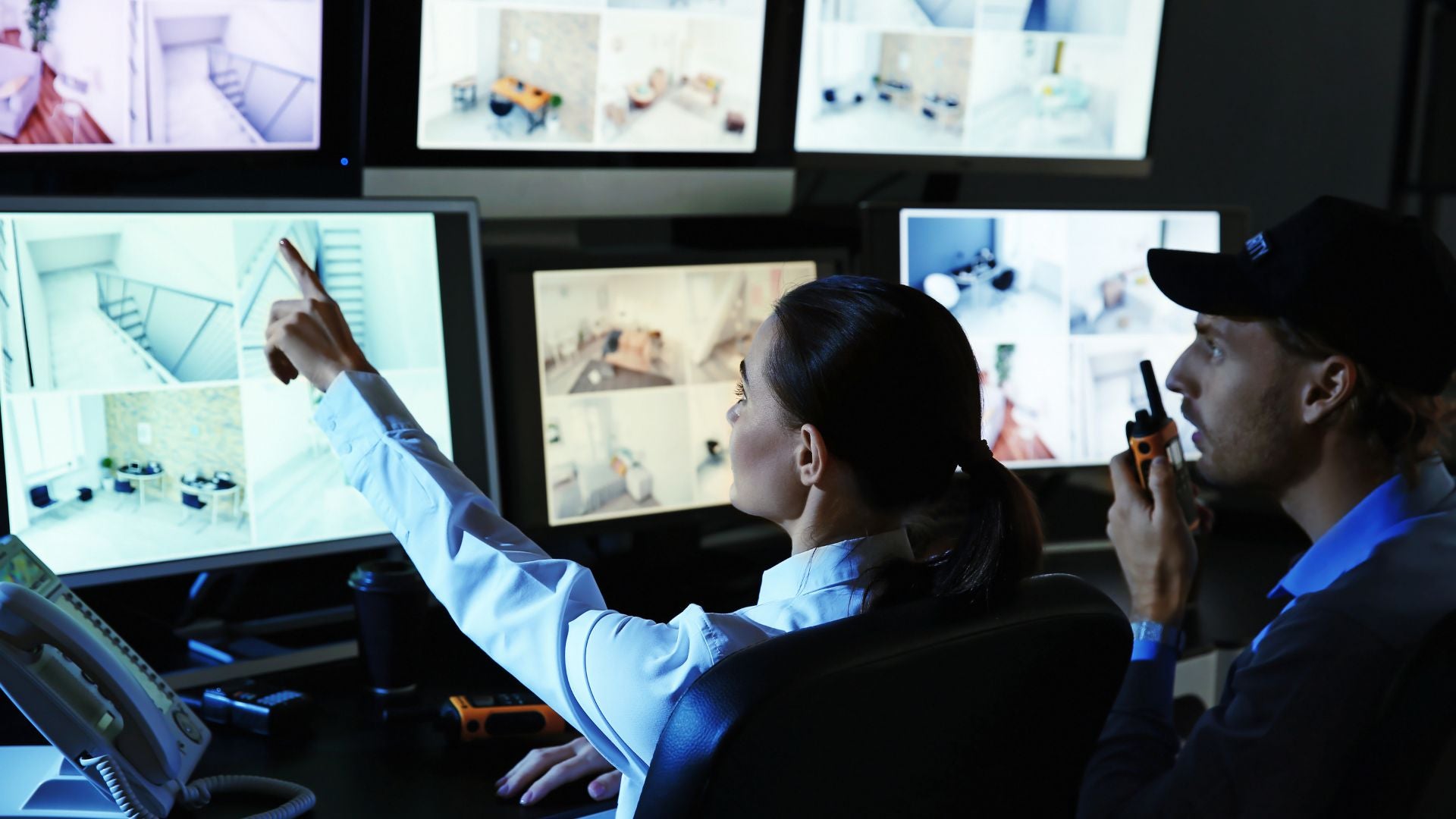 The Best Security Cameras of 2023
Navigating the rapidly evolving landscape of security camera technology can be overwhelming, especially when you're bombarded with so many options, each with different, advanced features and capabilities. 
From color 24/7 technology to multi-lens cameras, how do you know which features are essential for your specific needs and which are just nice-to-have? 
As leaders in the field of video surveillance since 2009, our team at BV Security understands the complexities involved in making the right choice. 
That's why we've compiled this comprehensive guide to help you understand the latest trends and technologies in security cameras for 2023.
By the end of this article, you'll have a clearer understanding of the standout features in this year's top security cameras, how to set a budget that aligns with your needs, and how to avoid the common trap of getting carried away by bells and whistles. 
The Influence of Technology on Security Cameras
Recent advancements in technology have had a profound impact on the features and capabilities of top security cameras this year. As we continue to push the boundaries of what's possible, several groundbreaking technologies have emerged, setting new standards for surveillance.
Color 24/7 Technology
One of the most exciting developments is the advent of color 24/7 technology. Traditionally, security cameras would capture footage in color during the day and switch to black and white at night to accommodate infrared lighting. However, the latest cameras have overcome this limitation by implementing a different type of light that allows for color recording around the clock. 
This technology has been in the works for some time, but it's only in the last year that it has become highly functional and reliable. The benefits are clear: color footage provides more detail and context, making it easier to identify individuals or objects, even in low-light conditions.
The Rise of Multi-Lens Cameras
Another noteworthy innovation is the introduction of 360 and 180-degree cameras equipped with multiple lenses. 
These cameras are designed to capture wide shots and intricate details simultaneously, offering a comprehensive view of the area under surveillance. Whether you're monitoring a large open space or a more confined area, these multi-lens cameras ensure that no detail is missed.
Standout Features in 2023's Top Security Cameras
Multi-Lens Cameras with Advanced Capabilities
As we've mentioned, 360 and 180-degree cameras with multiple lenses have become more accessible, no longer confined to high price points. These cameras stitch together images from multiple lenses into one comprehensive view, providing wide shots filled with intricate details. What's even better is that these multi-lens setups only take up a single channel on your recorder, making them incredibly efficient.
The Top-Selling Security Camera of the Year
If you're looking for a camera that truly has it all, our top-selling camera this year is the R-Tech 4MP Security IP Turret Camera PoE. 
This 180-degree camera model combines several groundbreaking features. Not only does it offer the multi-lens setup that stitches images into a single view, but it also comes with the color 24/7 technology.
This camera also incorporates a built-in microphone and speaker, and features an innovative "active deterrence" system. With this feature, you can schedule the camera to play pre-recorded messages if someone shows up outside of regular hours. Whether it's a standard alert or a custom message you've recorded, the camera can automatically deliver these messages, adding an extra layer of security and deterrence.
The Top 3 BV Security Cameras of 2023
Image and Video Quality
Resolution: 8MP High Resolution with a 1/3" CMOS Sensor.

Compatibility: Works with TVI/AHD/CVI/Analog DVRs (Requires 8MP or higher resolution DVR).

Lens: 2.8mm Fixed Wide Angle Lens for clear focus, no adjustment required.
Night Vision
24/7 Color Technology: Provides color images even in low light or nighttime conditions.

Smart LED Light: Enhances night vision capabilities.
Weather Resistance and Construction
IP67 Weatherproof Rating: Can withstand harsh weather conditions.

Material: Heavy-duty metal construction for outdoor use.
Compatibility
4-IN-1 Technology: Compatible with TVI/AHD/CVI/Analog DVR systems.
2. 
R-Tech 4MP Security IP Turret Camera PoE
Image and Video Quality
Resolution: Crisp 2688 × 1520 resolution.

Image Sensor: 1/1.8″ progressive scan CMOS.

Minimum Illumination: 0.0005 Lux or 0 Lux with white light.

Frame Rate: 30 fps at various resolutions including 2688 × 1520, 1920 × 1080, and 1280 × 720.

Wide Dynamic Range: True WDR 120dB.

3D DNR: Digital noise reduction technology.
Night Vision
EXIR Night Vision: Capable of operating in low-light conditions.

Visible Range: Up to 90 feet.
Power and Connectivity
PoE (Power over Ethernet): Simplifies setup by allowing both power and data to be carried over a single Ethernet cable.

Power Supply: 12 VDC +/- 25%, PoE (802.3af, class 3).

Power Consumption: Max 7.6W.

Communication Interface: 1 RJ45 10M / 100M Ethernet interface.
Storage
SD Card Slot: Supports up to 128GB of storage.
Audio
Built-in Mic: Yes, for audio input.

3. BV-Tech PoE IP Turret Dome Camera with Mic/Audio, 180° Color
Image and Video Quality
Resolution: 6MP for high-quality video.

Compression Technology: Features H.265+ compression for efficient storage of high-quality video.
Night Vision
Night Vision Range: Up to 30m (98ft), allowing for clear recording even in low light conditions.
Audio
Built-in Mic: The camera comes with built-in mic/audio capabilities.
Weather Resistance and Construction
IP67 Weatherproof Rating: Designed to withstand harsh weather conditions.
How to Choose the Right Security Camera For You
Set a Clear Budget

: One of the first and most crucial steps in selecting a security camera system for your business is setting a clear budget. Security cameras come with a variety of features and capabilities that can quickly escalate costs. Knowing your budget constraints upfront can help guide your decision-making process and prevent overspending.




Avoid the Bells and Whistles Trap

: It's easy to get carried away by the allure of advanced features and cutting-edge technology. While these can be impressive, it's important to ask yourself whether they align with your specific needs. Not every business requires a camera with 360-degree coverage or color 24/7 technology. Sometimes, simpler solutions may be more than adequate for your security requirements.




Prioritize Features: Must-Have vs. Nice-to-Have

: When planning your security system, it's crucial to identify the features that are absolutely necessary for your business. Do you need to track every individual who enters your premises? Is license plate recognition a must-have for your parking lot? By prioritizing these must-have features, you can make more informed decisions and avoid getting sidetracked by non-essential functionalities.
Consult with Experts for Best-Fit Solutions

: Finally, consulting with security experts can provide valuable insights into what solutions would best fit your specific needs and budget. At BV Security, we offer personalized consultations to help you navigate the complexities of selecting the right security camera system. We take into account existing infrastructure, such as cables and recorders, and work with you to identify your unique security needs.
Summary
If you have any questions unique to your situation or need help finding the right solution, please feel free to contact one of our experts at (847) 619-2288. Additionally, you can reach us via email: support@bvsecurity.com or visit our website https://bvsecurity.com/ to view available products and latest guides.