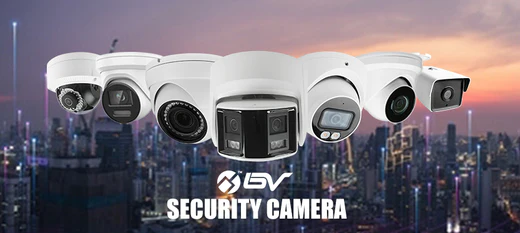 How to pick the right security camera?
How to pick the right security camera for you
Here at BV security, we have dedicated ourselves to being experts in the video security field. Over the last decade plus, we have helped countless people choose the right security cameras for their situation. While many things have changed in those years, there are some common threads to the questions we get asked. Below are some of the most common questions we get when helping customers choose the right security cameras for them.
What is the difference between IP and Analog cameras?
While analog and IP cameras have mostly caught up to each other when it comes to resolution there are still some key differences. Firstly, analog cameras utilize coax cable, making it much easier and more cost-effective if you are upgrading from an older system. If you are starting from scratch IP cameras run off-network cable, which is much easier to install and can be used to be used for other purposes. IP cameras also have their own independent interface which allows you more control of the camera.
What do the different lens sizes mean?
The lens size determines how far or how wide your cameras can see. Lens are measured in millimeters and the most common models range from 2.8mm to 12mm. 2.8mm is the best option for the widest view and as the lens size gets bigger the further out you can see. With higher resolutions, we recommend a 2.8mm lens. It gives you a great overview and with the increased resolution you can always zoom in for finer detail after the fact.
Why is my camera black and white at night?
To begin with, the most common technologies that security cameras use to give you a night image is Infra-Red Light or IR light. IR light is invisible to the human eye and your camera can only use the light in black and white mode. More modern cameras can come in an option that allows them to see in full color at night. For a full color option check out our model # CA-IPDF-6042C-28A. This camera gives you a super clear, full color image, night or day.
What does FPS mean?
Firstly, FPS stands for "Frames per Second". This rating lets you know how smooth your security camera's video playback will be. 30 FPS is generally referred to as real-time and plays as smoothly as the movie. Higher fps means better quality and natural. As a result, as the FPS drops the video gets more choppy.
Our Products and Services:
For more informative content, product demonstrations, and expert tips, visit and subscribe to our BV Security YouTube Channel. Stay up to date with the latest advancements in security technology.