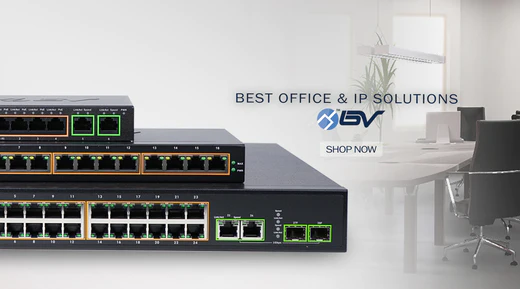 Managed vs. Unmanaged Switch
If you are planning to add new network devices, you might be looking into getting a new Power over Ethernet, or PoE, switch. There are a lot of options and a lot of jargon out there, and if this is new to you it can get really confusing, really fast. Today we are going to discuss two main categories of PoE switches: unmanaged vs. managed. We will go over the pros and cons of both. Hopefully we can give you the info you need to make the right choice for your situation.
Unmanaged PoE Switches
To begin with, the most basic type of switch you can purchase is an Unmanaged PoE Switch. This category of switch is prized for being simple yet effective. When setting up your unmanaged switch all you need to do is plug in your devices, uplink into your network, and you are ready to go.
Another huge benefit when it comes to unmanaged switches is the price. You can expect to pay anywhere from 25% - 50% less for an unmanaged version of the same switch. For most common purposes there really isn't a downside to an unmanaged switch. However, for more complicated setups or network designs they will not provide the level of control you may need.
Managed PoE Switches
If you are looking for more control or have a more involved network, a managed solution might be better for you. Managed switches will have an interface that allows you to see all the traffic on each port; allowing you to configure, manage, and monitor them in any way you see fit. You can easily see statistics such as port status or network errors allowing you to troubleshoot any issues that may arise.
In addition to this added control, you also get extra levels of security that you don't get with unmanaged switches. Features such as authentication, port security, and private VLANS can help keep your data and network secure.
There may be a few downsides to a managed switch, however. You will pay a premium to get these features in your switch. You will expect to pay 25% - 50% more for a managed switch over a more basic model. Also, these features are generally not easy for a first-time user to set up. Unless you know your way around a network, expect to spend some time reading and watching YouTube until you get it all figured out.
Conclusion
In conlusion, if you are looking for a new switch you clearly have some options. Whether you need the easiest, most hassle-free setup available or you are looking for total control there is a product out there for you. Hopefully this guide has helped you clear up some of those options.
At BV Security, we offer a variety of high end PoE products, IP/analog systems, and network cable. We take pride in our 100% customer satisfaction and promise customers quality service. Click here to check out our highly rated PoE switches.
Our Products and Services:
For more informative content, product demonstrations, and expert tips, visit and subscribe to our BV Security YouTube Channel. Stay up to date with the latest advancements in security technology.